Bubur Cha Cha Dessert 莫莫喳喳汤水
Pre Seasoned Cast Iron Skillet (12.5 inch) by Utopia Kitchen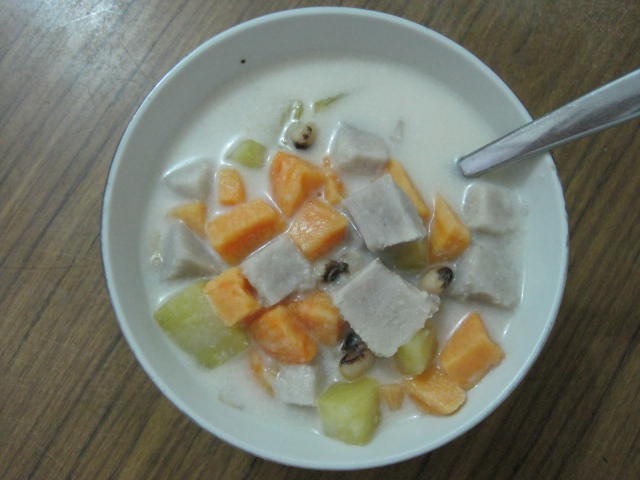 Bubur Cha-Cha is a famous Nyonya (Chinese mixed with Malay ethnic) desserts. Even in the United States, you may found on the menu of some Asian cafes as Nanyang Bubur Cha-Cha or 南洋莫莫喳喳. Nanyang means "south of sea," generally known as Southeast Asia in Chinese. Each country in Southeast Asia has its own variation of this dessert—a medley of sweet potatoes (in yellow, orange or purple color), yam (taro), black-eye beans and tapioca jelly and cooked in a sweet coconut milk base. Bubur Cha Cha is a colorful and sweet dessert, and is generally prepared during festive seasons in Penang State of Malaysia and a must have on Chap Goh Meh (the 15th and last day of Chinese New Year) especially the Hokkien people. They believe this dessert bring the prosperous and luck for the new year.
Prep Time : 15 min
Cook Time : 30 min
Ready Time : 45 min
Ingredients
300 Grams Yam (taro)
300 Grams Yellow Sweet Potatoes
300 Grams Orange Sweet Potatoes
100 Grams Black Eye Beans
100 Grams Tapioca Flour ***For Tapioca Jelly
1/2 cup Hot water ***For Tapioca Jelly
200 Grams Sugar ***to taste accordingly
1/2 tea spoon Salt ***to taste accordingly
3 Pandan Leaf
1.5 Liters Water
550 Grams Fresh Coconut Milk
Directions
Step 1:Rinse and soak the black eye beans in water for 1 hours.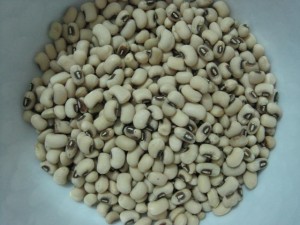 Step 2: Rinse, peeling the skin and cut the sweet potatoes yellow type, orange/red type and yam into cube size. Then steam it for 10-15 minutes together with the beans.
Step 3: To make tapioca flour jelly, place the flour in a bowl and pour in boiling water. Mix the flour and water until well
incorporated. When the dough is cool, roll it out evenly on a well floured surface and cut into cube or desired shapes.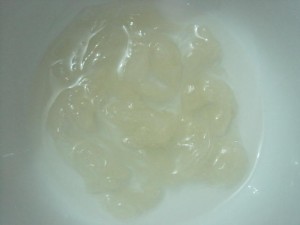 Step 4: Boiling the black eye beans with a pot of water and pandan leaves until soft (around 15 minutes). Then add in sugar.
Step 5: Mix in the fresh coconut milk and salt for cook until boiling (around 10-15 minutes) then mix in all the ingredients-sweet potatoes, yam and tapioca jelly for cook another 5 minutes. Then ready to serve in hot.