Cantonese Dumpling- Wonton (云吞)
Pre Seasoned Cast Iron Skillet (12.5 inch) by Utopia Kitchen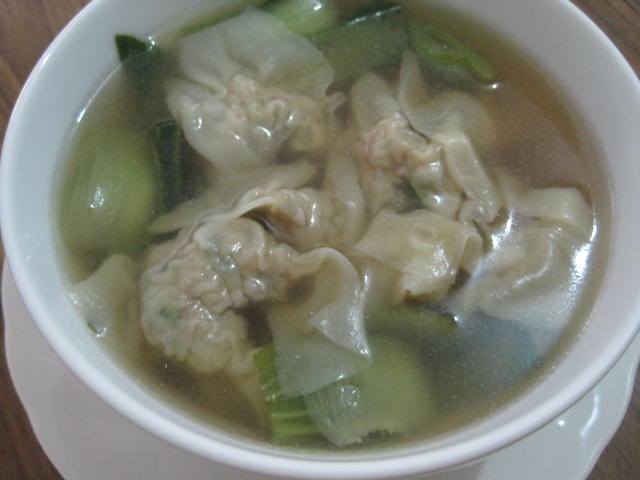 Wonton is a Cantonese word for dumpling which usually serve together with the mee/ noodle called Wonton Mee. This type of noodle was a famous food from Hong Kong. This Wonton is almost similar "Shui Jiao" which it contains prawns, chicken or pork and spring onions but "Shui Jiao" will adding mushroom and black fungus. Both dumplings usually served in a hot broth and garnished with leafy vegetables.
Prep Time : 10 min
Cook Time : 30 min
Ready Time : 40 min
Ingredients
150 Ground Pork
150 Shrimp Meat
20 Spring Onion
20 Parsley
2 Table Spoons Light Soya Sauce
1 table spoon Sesame Oil
1 tea spoon Pepper
1 table spoon Cornstarch
200 Grams Anchovies ***For soup base
150 Grams Bak Choy ***For soup base
150 Grams Green Cabbage
20 pieces Wonton Dough (in square shape) ***Buy from market in dry pack
Directions
For Soup Base Instruction
Step 1: Ready the soup base with anchovies and Bak Choy & Green cabbage. Rinse its and cut the vegetables into 2 inch size.
Step 2: Then put in 3 big bowl of water into pot for boiling. After the water boiled, mix in the anchovies and Bak Choy & Green cabbage for cook around 30-45 minutes.
For Dumpling Filling Instruction
Step 1: Mix in the ground pork meat, chopping shrimp, chopping spring onion and chopping parsley.
Step 2: Add in the filling with 2 tablespoons light soya sauce,  1 teaspoon pepper, 1 tablespoon  Cornstarch and 1 tablespoon sesame oil.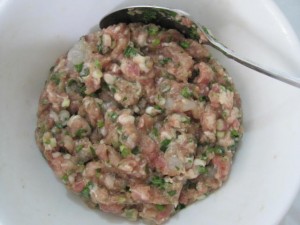 For Dumpling Instruction
Step 1: Put one full teaspoon of the filling into the middle of each wonton dough and wrap it. Pinch the edges at top, left and right side in triangle shape. Then fold the middle of the triangle until it round up.
Step 2: After all the dumplings are ready wrapped, boiling the water to cook it. Once the dumpling is ready cook, it will floating on surface. Then drain it and mix with same oil so it will not stick all together.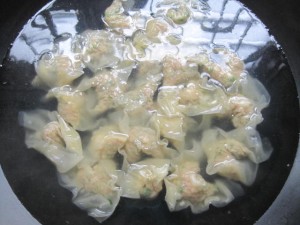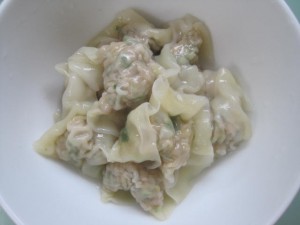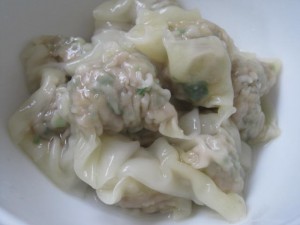 Step 3: Mix in the ready dumpling with the soup and serve.