Chinese Recipes With Chicken-Cantonese Style Chicken Cuisine 南京水晶鸡
Pre Seasoned Cast Iron Skillet (12.5 inch) by Utopia Kitchen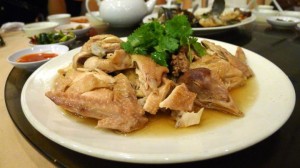 This Chinese Recipes With Chicken Cantonese style Chicken Cuisine is a famous dishes not among the Cantonese people but among all the Chinese. Normally this Chicken Cuisine will serve together with the rice. Cantonese style cooking method is by steaming or boil in water of the whole chicken. It can help to maintain the original taste of chicken and the nature sweet of the chicken meat. You may dip with some light soya sauce to improve the salty taste of the chicken too. Beside that, it is also an healthy cooking method without any oil to cook it.
Prep Time : 5 min
Cook Time : 30 min
Ready Time : 35 min
Ingredients
1 Whole Chicken *** Farm Chicken is highly recomended
2 Tea Spoons Salt
30 Grams Ginger
2 Liters Cool Water ***add some ice
20 Grams Parsley
Directions
Step 1: Rinse the chicken and wipe some salt on the body of whole chicken. Then put in one teaspoons of salt and ginger inside the body of the chicken before steaming about 30 minutes.
Step 2: After 30minutes, soak in the whole chicken into cool water or ice so that the skin will be more moisture and tasty.
Step 3: Finally cut it into pieces and serve with some parsley on top.