Healthy Fish Recipes-Celery Fungus Stir Frying Fillet 芹菜木耳鱼片
Pre Seasoned Cast Iron Skillet (12.5 inch) by Utopia Kitchen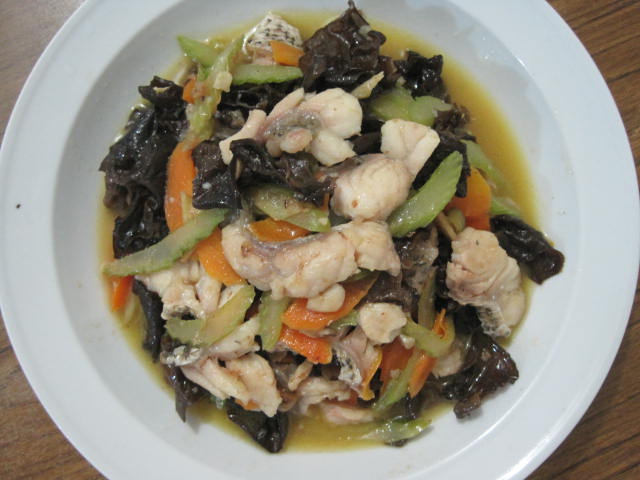 If you love to eat fish but afraid to eat the fish bone, then you may use fish meat/ fillet as the ingredients instead of a whole fish to cook. This fillet which is boneless also easily to eat especially to the kids and eldest. For the fish meat, Grouper is the best choice because the fish texture is fill and compact. Anyway, you may choose other type of fish. With add in the celery and fungus will improve the taste of the fish and also the nutrition is a healthy fish recipes. Celery not only used as salad or soup, it can mix with fish or meat which is a very good combination taste too. Celery is a good vegetable for lowering the blood pressure and high level of Vitamin A. For black fungus, according to Traditional Chinese Medicine Practitioners, it has a bittersweet taste and is "neutral in nature" that can replenish "Qi" (essential energy), enrich and activate blood, purify lungs and intestines. So, I highly recommend this Celery Fungus Stir Frying Fillet especially for the senior citizen.
Prep Time : 10 min
Cook Time : 10 min
Ready Time : 20 min
Ingredients
50 Grams Fresh Fungus ***
1 Stalk Celery
50 Grams Carrot
3-4 pieces Ginger
1 Glove Garlic
150 Grams Grouper Fish Meat
1 tea spoon Salt
1 tea spoon Sugar
1 tea spoon Light Soya Sauce
1/2 cup Chicken Broth or Water
1 table spoon Hua Tiao Wine (Rice Wine)
Directions
Step 1: Buy the fresh fungus type to cook directly without soaking. Or rinse and soaking the 50 grams of dried fungus for around 1 hours. Then cut into small pieces.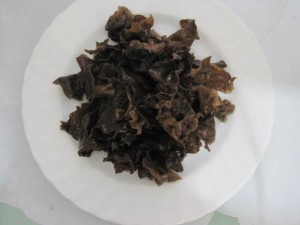 Step 2: Slice the celery, carrot,  ginger and garlic.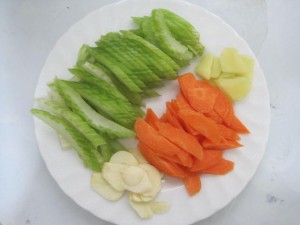 Step 3: Slice the 150 grams of grouper fish meat and deep fried it for 3 minutes, then put on a plate.
Step 4: Heating a wok/ pan with 3 table spoons of oil, put in the ginger and garlic for stir frying a while. Then mix in the celery, one tea spoons of salt, one tea spoons of sugar and one tea spoons of light soya sauce for stir frying around 1 minutes. After that mix in the fungus and 1/2 cup of chicken broth for cook around 2  minutes. Finally, mix in the fried fillet and put in one table spoons for "Hua Tiao" Wine (Rice Wine) for sauteing a while then serve on plate.