Fujian Brown Sugar New Year Pudding-"Nian Gao" 福建年糕 红糖年糕
Pre Seasoned Cast Iron Skillet (12.5 inch) by Utopia Kitchen

Brown Sugar New Year Pudding is a traditional Chinese New Year dessert origin from Guang Dong-Fujian. This pudding called "Nian Gao" which mean high year and will bring higher fortune and successful year. When Chinese New Year is coming, every household was busy steaming a variety of pastries, cakes and this pudding which is essential. Normally it will made with white sugar or brown sugar. For white sugar type, it can mix in with peanuts, red dates, melon seeds, walnut and others fruits seed.
Prep Time : 15 min
Cook Time : 30 min
Ready Time : 45 min
Servings
6 pieces
Ingredients
1000 Grams Glutinous rice flour
900 Grams Brown Sugar
1000 ml Water
Directions
Step 1: Boil the brown sugar with water in a pot until melted and keep in cool (must keep until cool).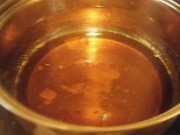 Step 2: Once the brown sugar syrup get cool mix it to the glutinous rice flour.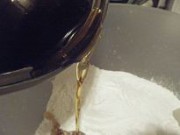 Step 3: Stir well the brown sugar syrup and the glutinous rice flour.(you may mix in some pork oil for better taste and color)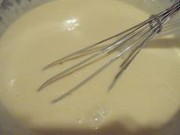 Step 4: Get ready 4 inch round container and cover it with dumpling leaf. Brush some oil on top the dumpling leaf to avoid stick.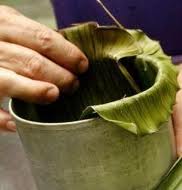 Step 5: Then pour the mix well glutinous rice syrup into the container for steaming around 30 minutes before ready to serve.