Chinese Dessert Recipes-Nian Gao Coconut Ball 椰丝年糕
Pre Seasoned Cast Iron Skillet (12.5 inch) by Utopia Kitchen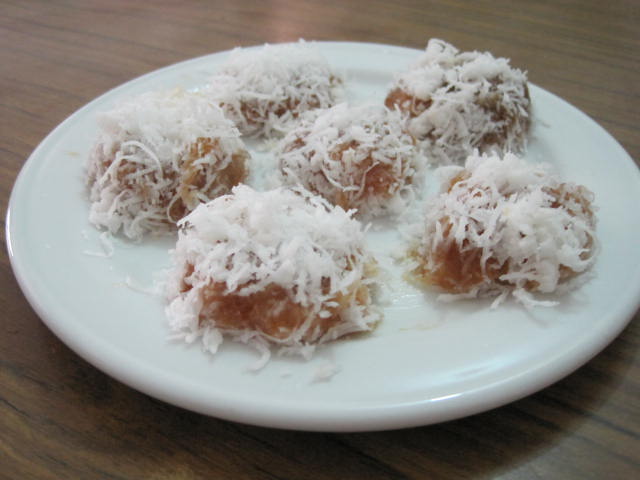 Nian Gao is a traditional food of Chinese and very famous Chinese dessert eaten during Chinese New Year because it means getting higher level of success yearly. Nian Gao will be made for praying ritual and worship of ancestors. Then after Chinese New Year, the Nian Gao will use for making the dessert. If you don't like to made in pan fried method, you may choose this type of steam method and mix with desiccated coconut. The taste is awesome because it will not feel too sweet but some salty taste and aroma smell from the desiccated coconut. Lets try and enjoy this Chinese dessert recipes, I strongly believe you will love it very much.
Nian Gao Coconut Ball 椰丝年糕 | Chinese Dessert Recipes
Prep Time : 10 min
Cook Time : 10 min
Ready Time : 20 min
Servings
Ingredients
250 Grams desiccated coconut
9 pieces Nian Gao ***After cut into pieces
1 tea spoon Salt
Directions
Hello there! If you are new here, you might want to subscribe to the RSS feed for updates on this topic.
Step 1: Mix the salt with the desiccated coconut.
Step 2: Remove the dumpling leaf and cut the Nian Gao into pieces. Prepare the Nian Gao for steam around 10 minutes until it look soft and melt.
Step 3: Take a teaspoon of the melted Nian Gao and mix it into the desiccated coconut. Cover around the Nian Gao with desiccated coconut and make it into a ball shape. Then ready to serve and enjoy the dessert.