Chinese Recipes With Chicken-Stir Frying Marinated Chicken 炒腌制鸡肉
Pre Seasoned Cast Iron Skillet (12.5 inch) by Utopia Kitchen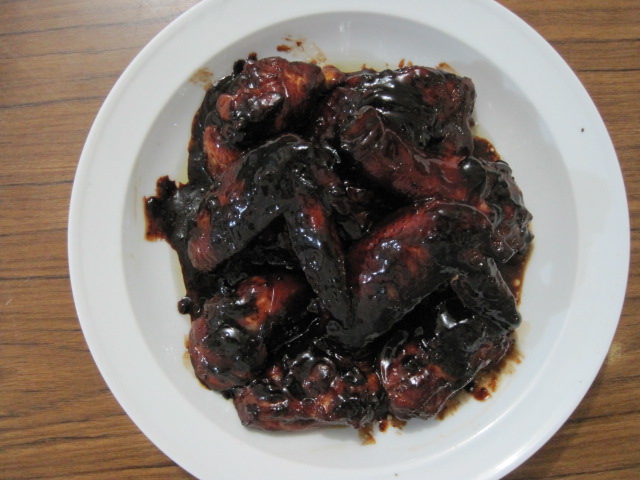 Marinated is one of popular Chinese cooking method. Longer time to marinate will have a better taste after cook it. For this marinated chicken recipe, the important ingredients is spices powder or called as "Wu Siang Fen-五香粉" in mandarin. This spices powder consist 5 type of spices and herbs and was used to marinate any type of meat. This special spices will improve the aroma and excellent taste of the meat. You may make this marinate recipe for prepare the BBQ party and put some honey on top after cook will be have a better taste. For Chinese recipes with chicken, stir frying method is a good method for cook.
Prep Time : 35 min
Cook Time : 20 min
Ready Time : 55 min
Ingredients
1 Chicken Drumstick
2 Chicken Wings
1 table spoon Thick Soya Sauce
2 & 1/2 Table Spoons Light Soya Sauce
1 tea spoon Pepper
1 & 1/2 Tea Spoons Spices Powder (五香粉)
3 Table Spoons Oil
Directions
Step 1: Cut a whole chicken drumsticks into 4 pieces and 2 pieces chicken wing into 2 pieces each.  Marinate around 30 minutes for the chicken with 1 table spoons of thick soya sauce, 2 & 1/2 table spoons of light soya sauce, 2 table spoons of sugar, one teaspoons of pepper and 1 & 1/2 teaspoons of spices powder (五香粉).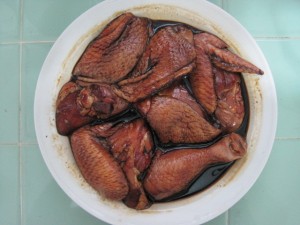 Step 2:  Heating a wok/ pan with 3 table spoons of oil, put in the marinated pork meat for stir frying around 15-20 minutes then ready to serve on plate.