Recipes with Vegetables Bitter Gourd Stuffed with Fish Paste 酿苦瓜
Pre Seasoned Cast Iron Skillet (12.5 inch) by Utopia Kitchen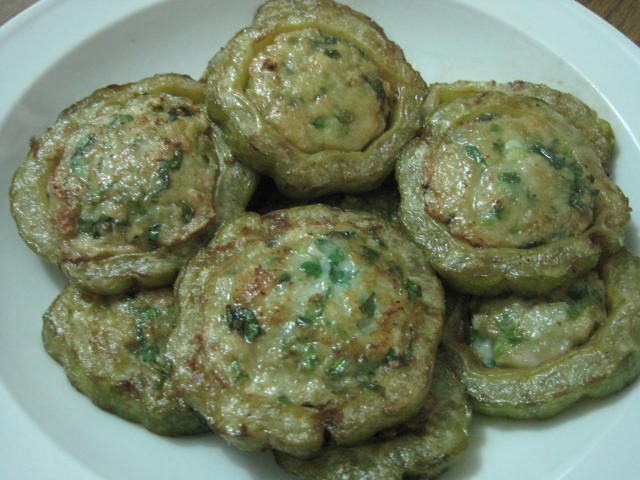 Chinese food are creative and fine cuisine. Chinese use to made a dish with combination of fish and recipes with vegetables so that the food more delicious and have a balance diet. For Hakka people(客家) from provincial areas of Guangdong, Jiangxi, Guangxi, Sichuan, Hunan and Fujian in China, they like to stuffed the melons type vegetables or tofu type with fish paste or ground pork. This Stuffed Bitter Gourd with fish paste is one of the famous Hakka Cuisine. The outlook of this dish is delicacy, the smell is fantastic and the taste also delicious! You may try to learn how to cook this and I assured you will love it very much.
Prep Time : 10 min
Cook Time : 10 min
Ready Time : 20 min
Ingredients
1 Bitter Gourd ***Choose the wide diameter size
200 Grams Fish Paste *** Bought directly from market
20 Grams Parsley
1 cup Oil
Directions
Step 1: Rinse and cut the bitter gourd into pieces of round shape and remove the seeds at the center. Then deep fried until half cook.
Step 2: Rinse and chopping the 20 grams of parsley.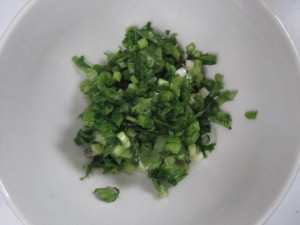 Step 3:  Ready the 200 gram fish paste that brought from market and mix in the chopping parsley.
Step 4:  Gently stuff the mix fish paste into the  center of bitter gourd with a spoon to fill up the empty space. Then deep fried it at the wok in low heat mode and fried both side until turn to golden color before serve on plate.